[ad_1]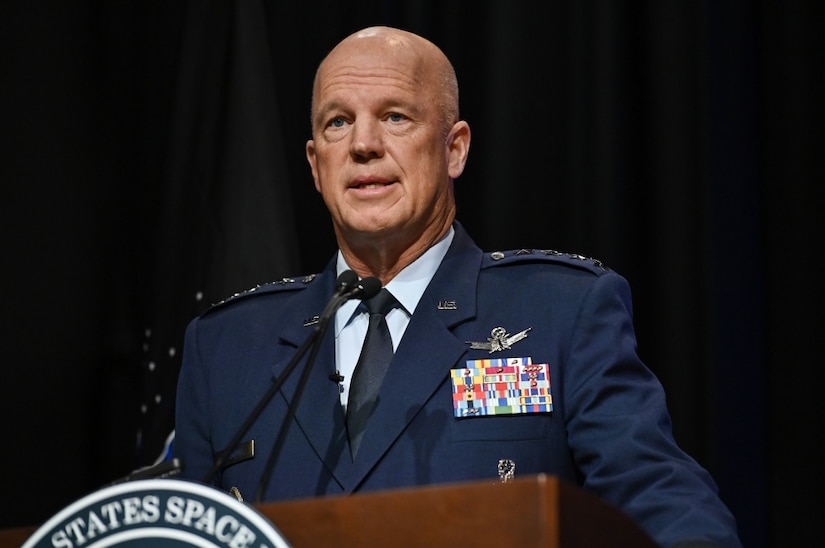 The United States' freedom to maneuver in space is a vital national interest that underpins national security, intelligence efforts, treaty verification and the economy, Chief of Space Operations, Space Force Gen. John W. "Jay" Raymond said.
The general talked about the advantages of U.S. presence in space during a fireside chat today at the Air Force Association's 2021 virtual Aerospace Warfare Symposium.
"There's a significantly growing economy in space between here and the lunar surface [with] estimates of over $1 trillion over the next handful of years. It underpins every instrument of national power," Raymond said.
The U.S. is concerned with cyberthreats that China and Russia are continuing to develop, Raymond noted. "It's something that we have to protect against today. That's why the establishment of the U.S. Space Force is so important. We are purposely built to stay ahead of that growth" from other countries.
If the nation can deter conflict from beginning, or extending into space, space can deter conflict from spilling over into other domains, the general added.
"Space is a huge force multiplier [that] enables us to do things the other services can do with smaller force structures because they have integrated space to their advantage," he explained. "We cannot afford as a nation to lose. … we're the best in the world of space. We are running fast — the guardians are running fast — to be able to stay ahead of that threat to deter from a position of strength." 
The general said the nation can't just launch a satellite and assume it's going to be there forever; we have to be able to protect and defend it.
"That's the new missionary," he said. "That's why the United States made the decision to stand up both the U.S. Space Command — the operational arm, the warfighting arm — and the Space Force, which is the organized training equipment [arm]."
The National Security Strategy and the National Defense Strategy outline a very complex strategic environment in space, one that has global challenges, multidomain challenges, and challenges that move very fast at great speeds and across great distances, he explained, adding that space is a warfighting domain, just like air, land and sea.
And as a warfighting domain, the nation now has a service focused on protecting and defending that domain, he added.
With space, the U.S. has an opportunity with its allied partners, Raymond pointed out. In the first year of standing up an independent Space Force, partnerships have also been established. 
"We want to build this coalition [as] friendly from the beginning to allow our international partners to invest," Raymond said. "And we think that partnership is key to deterrence and key to our strength."
[ad_2]

Source link