[ad_1]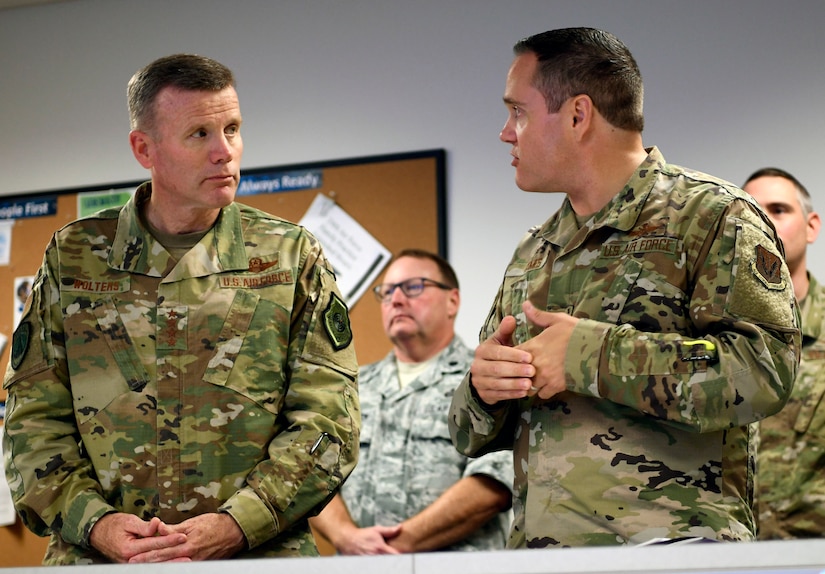 U.S. European Command works closely with U.S. allies and partners to address evolving challenges posed by its adversaries to secure peace and to protect U.S. interests abroad, the commander of the U.S. European Command,  Air Force Gen. Tod D. Wolters, said today.
"Everything we do is about generating peace. We compete to win, … and if deterrence fails, we're prepared to respond to aggression, primarily through NATO," Wolters, also NATO's  Supreme Allied Commander Europe, said. He spoke virtually at the Air Force Association's Aerospace Warfare Symposium.
Securing America requires a global effort, the general emphasized. As threats to our respective nations have evolved over seven decades of NATO's existence, the alliance has adapted to provide for the collective security of its members, he said.
"Our air forces in Europe play a critical role — as do all of our components in all domains — in demonstrating our collective resolve and readiness to deter our adversaries and sustain peace," Wolters said. "Beyond exercises, we conduct operations and other activities to compete, deter and prepare to respond to aggression, including presence in the Black Sea region."
Further to the north, Air Force bombers are strengthening the enduring partnership between the U.S. and  Norway. The missions demonstrate U.S. commitment to its allies and partners and the credibility of the air forces to address a more uncertain global security environment, he said. Across Europe, the United States is in the 16th year of NATO air-policing missions; and 60 years of allies working collectively under NATO to safeguard and protect the integrity of the skies. 
"We live in an increasingly complex and contested world," Wolters said. "Political uncertainty, energy competition and diffusion of disruptive technology are stressing the established rules-based international order, [and] threats and challenges seek to take advantage of these conditions through aggressive action, using all instruments of national power [that] are backed by increasingly capable military forces."
Adversaries amplify these malign activities and foment instability with disinformation and destructive cyber campaigns, testing national governments and multinational institutions, he said.
If left unchecked, such activities could escalate into more aggressive behavior, the Eucom commander said. Meeting these threats and challenges requires the United States to take meaningful steps away from a binary model of peace or war, and toward a gradient that includes competition with a military dimension below armed conflict.
"We're in an era of global-power competition. Winning in this era is ensuring that global power competition does not become a global power war," he emphasized. "Despite widespread international condemnation and continued economic sanctions, Russia engages in destabilizing and malign activities across the globe, with many of those activities happening close to home [in Europe]."
Russia, Wolters added, seeks to maintain a sphere of influence from the Soviet era by retaining or employing forces to coerce neighboring Soviet-sovereign nations. In this global power competition, Russia is employing unconventional tools such as private military companies to intimidate, weaken and divide U.S. allies and partners. 
"Russia remains an enduring existential threat to the United States and our European allies," he said.
And China's growing European influence centers around an aggressive economic and diplomatic campaign, the general said. Seventeen Central and Eastern European nations participate in a cooperative framework program led by China, while some European countries have bilateral agreements to build infrastructures and give China an advantage in global trade and market access, he added.
Facilitating sustainable economic development, fostering cooperation and ensuring a stable, conflict-free Arctic region enhances interoperability and proficiency, while it also shows a collective resolve to uphold the rules-based order, Wolters said. 
"However, Russia and the Arctic nation and China — having declared itself a near-Arctic power — continued to militarize the region and seek to establish economic footholds to gain influence over regional governance," he pointed out. "The activities by Russia and China illustrate the importance for Eucom to come together with our allies and partners to maintain a credible Arctic deterrence and ensure vital sea lines of communication remain open by securing the Greenland, Iceland and United Kingdom gap." 
As competition extends beyond the confines of Earth, the United States must also focus on what is happening in space, the Eucom commander noted. "Our military advantage depends on space, and our adversaries have taken note. Space capabilities we develop have had an enormous benefit for every American and are vital to our nation's security," he said.
"Our security posture is strong," Wolters said. "We possess combat-critical capability across all domains — land, sea, air, space and cyber. We will maintain and work to hone this capability to deter our adversaries and defensive partners and our interests," he said.
[ad_2]

Source link