[ad_1]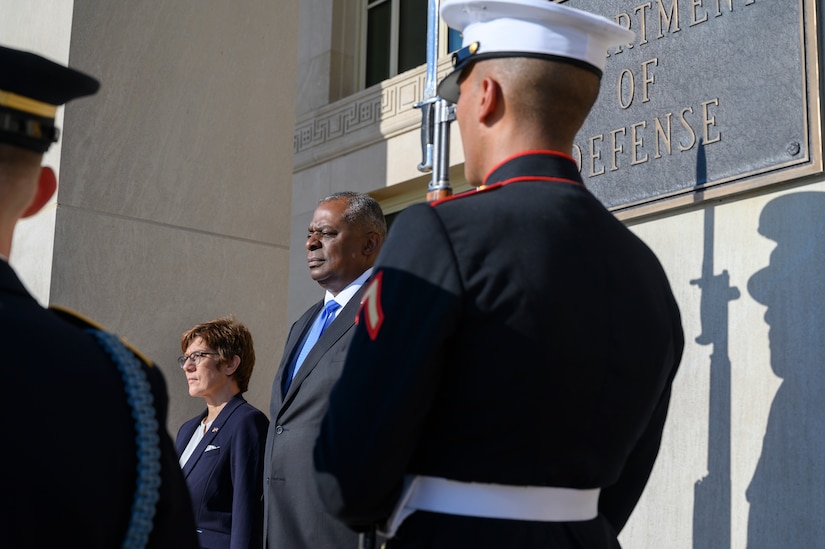 Secretary of Defense Lloyd J. Austin III welcomed German Defense Minister Annegret Kramp-Karrenbauer to the Pentagon and discussed the many ways U.S. and German service members work together to preserve peace and international order.
Following the Pentagon meeting, the defense leaders traveled to Norfolk, Virginia, where they visited with U.S. and German service members aboard the aircraft carrier USS Harry S. Truman.
Germany was one of the first countries Austin visited when he became defense secretary. "Germany is one of our staunchest allies, and strengthening our bilateral relationship is a top priority for the Biden administration," he said at the beginning of the Pentagon meeting. "For decades, American and German service members have stood shoulder to shoulder against common threats to advance our shared interests and values."
Austin recognized that Germany was one of the "framework nations" in Afghanistan. "As we wind down NATO's mission [in Afghanistan], we reflect on our shared sacrifice … and we're going to … be talking today about our common efforts as we work together toward lasting peace and security," Austin said. 
Germany is working with partners in other parts of the world, as well. The secretary sent his well wishes to the German soldiers wounded in a bomb blast in Mali last week. Germany is also planning a deployment of naval vessels to the Indo-Pacific next year. "This deployment demonstrates Germany's commitment to protecting stability," he said.
The German defense minister said her country is more than willing to play its part in protecting peace. She also stressed the shared values between the United States and Germany and said those values will serve both nations and the world as events unfold. "We face challenges, both old and new," she said through an interpreter. "For many decades, we've been standing side by side, shoulder by shoulder in NATO, in Europe, and in international missions."
[ad_2]

Source link